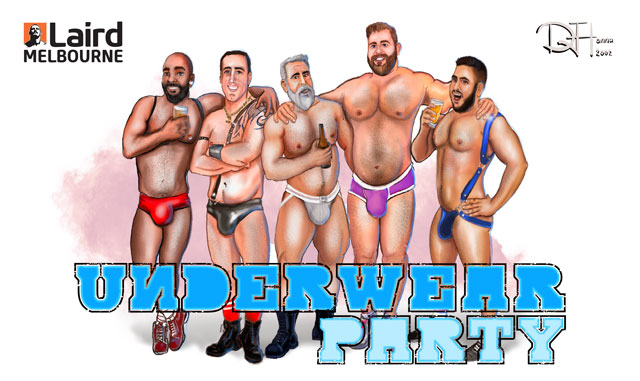 THAT'S RIGHT, IT'S BACK!
The most loved underwear party in town returns! After a COVID-induced hiatus, we're bringing back the Laird's monthly Underwear Party.
On the first Monday of each month, join a couple hundred other guys for a night of cruisey fun.
Strip down to your jocks, briefs, y-fronts, g-string, boxers or swimmers.
Please be advised frontal nudity is not allowed, and no open-toed shoes (things, sandals, crocs etc).
Feel free to don a leather or rubber harness or vest, but no t-shirts or singlets allowed.
Featuring 2 bars, a heated Beer Garden and upbeat tunes, it's the perfect way to kick off the month.
8pm-1am. Doors close midnight.
$15 entry (card only).
Cloak included in entry fee.
Men only VCAT H14/2022