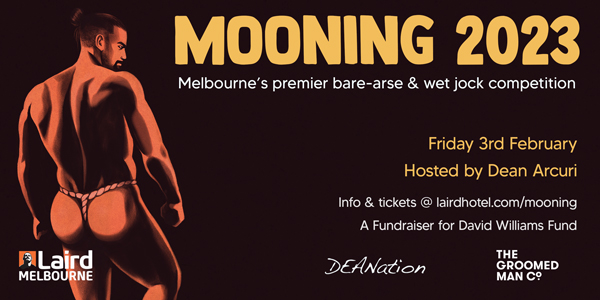 MOONING is one of the longest running events of Melbourne's LGBTIQ+ calendar, with guys baring all for a great cause (and some great prizes too).
With the Wet Jock and Talent segments, the crowd is guaranteed some cheeky action and more than a few laughs. Some of the crazy antics on stage have been legendary!
Hosted by DEAN ARCURI, Mooning is the cheekiest event of the year and has raised buckets of dollars for HIV/AIDS related charities over the years.
We'll also be auctioning off a pretty special item on the night… more on that soon.

In 2023, 100% of monies raised will benefit the DAVID WILLIAMS FUND - supporting people living with HIV. So just by buying a ticket you're supporting a great cause, and for the first time, we're offering 3 ticket types to give you a chance to give more and maybe win BIG!
$20 - General Admission (GA)
$30 - GA + $10 Donation
$40 - GA + $10 Donation + Entry into the BIG BOOTY PRIZE DRAW!
* * Only 50 available, drawn on the night * *
A booking fee will be added to the total at checkout.
Tickets on sale from 6pm Monday 16th December HERE
Door sales $30 unless sold out

Ever wanted to show off your butt and front bits while staying anonymous (unless you win of course!)?
Here's your chance to show your 'nudes' offline to an eager crowd.
All contestants receive a gift bag including products from The Groomed Man Co, Happie Holl, Thorne Harbour Health and more.
Want to be a contestant? Shoot us an email... contact@lairdhotel.com
Presented by The Laird in conjunction with Thorne Harbour Health.
Proudly sponsored by The Groomed Man Co and Happie Holl
Friday 3rd February 2023. Doors open 8pm
Men only. VCAT H14/2022