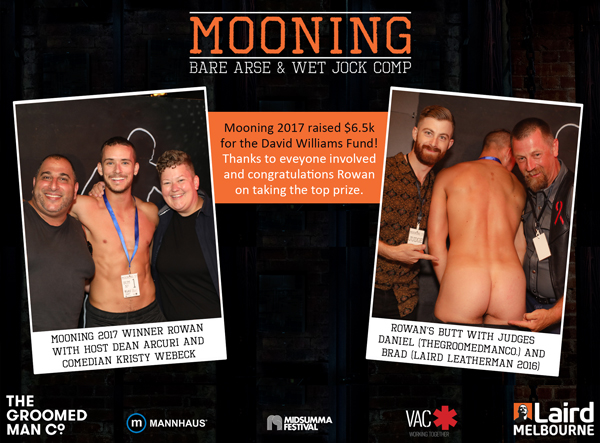 One of the longest running fundraisers around, Mooning has raised in excess of $200,000 for HIV/AIDS related charities in its 20-plus year history.
The Laird was at capacity once again for Mooning 2017, showing why it has been one of the highlights on the Midsumma calendar for nearly 30 years.
As the crowd jostled for prime viewing positions, backstage six brave contestants prepared themselves for (possibly) the most revealing night of their lives… Of course we could go into detail about the wet-jocks, bare-arses and random inanimate objects, but let's just say there were plenty of 'oohs', 'aaahs' and gasps throughout.
Comedian Kirty Webeck delivered a great stand-up set and even hung to assist host Dean Arcuri and poster boy Nathan with the auction of the framed Mooning 2017 poster.
Of course, Mooning aims to raise funds for David Williams Fund, which provides emergency financial assistance to people living with HIV (PLHIV) who are experiencing financial hardship. We are pleased to announce that Mooning 2017 raised over $6,500! So thanks to everyone who helped make it another success.
Congratulations Rowan, our Mooning 2017 winner who has won a fair few fans plus a massive package courtesy of major sponsor The Groomed Man Co. All contestants received a gift bag including products from The Groomed Man Co. Mannhaus and Victorian AIDS Council.
Mooning 2017 Cast & Crew
Host: Dean Arcuri. Contestants: Rowan, Glenn, Lawrence, Michael, Jesse, Todd. Judges: Brad and Daniel. Comedian: Kirsty Webeck. Sponsors: TheGroomedManCo, Mannhaus, VAC/Down An' Dirty. VAC Volunteers: Myka, Rob, Clayton, Justin, Mario. Other volunteers: Jason and Colin. Event photography: Andy Miller/Imaginarium. Artwork: Ross Spirou (photographer) and Nathan Weymouth (model). VAC: Renee, Daniel, Cal. Rapid auction winners: Stevie and Tony. The Laird crew, who worked their butts off once again.
MOONING WILL RETURN FOR MIDSUMMA, JANUARY 2018
Want to be a contestant? Email us at contact@lairdhotel.com
Mooning is presented annually by The Laird in conjunction with Victorian AIDS Council and their hard working volunteers.