Code Black is Australia's only true leather party. Held on the second Saturday in February and August, the party showcases the Lairda's long-standing connection with Melbournea's leather community.
The parties were on hiatus for a few years before the return in December 2008, thanks to the guys at Mannhaus who have co-produced every party since.
Nearly a decade later, Code Black is still dedicated to delivering a unique clubbing experience with a strict dress code, ensuring youa're partying with 300 sweaty and happy leather men.
Our strict dress standards are designed to ensure we maintain a party that remains true to likeminded-men within the leather scene. Purchase of a ticket is an acceptance of these dress code standards. Anyone not in acceptable or appropriate fetish gear will be denied entry.
Click HERE for dress code, and if in doubt, contact Mannhaus on 03 94164800.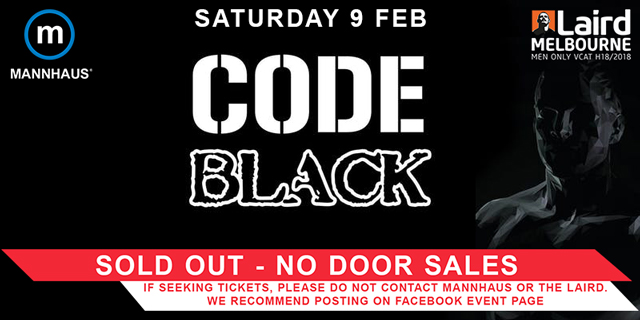 Ticket releases:
Code Black February - tickets available from 1st December
Code Black August - tickets available from 1st July
* * Tickets are almost guaranteed to sell-out, meaning no door sales on the night * *
Keep your finger on the pulse... click HERE to sign up to Mannhaus News.